Pucón, Chile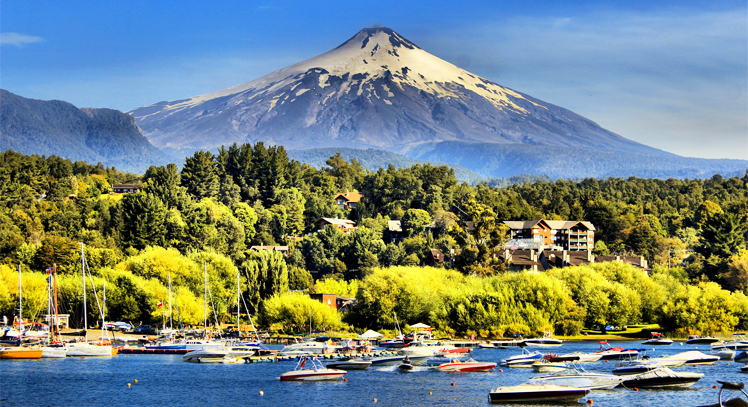 Pucón is a charming and picturesque town located on the shores of Lake Villarrica and in the shadow of the Villarrica Volcano.
Considered the "Adventure Capital of Chile" Pucón offers a multitude of outdoors, cultural, and wellness activities, a superb hotel infrastructure, and excellent dining options. An important destination for international and (especially) Chilean visitors, the town has managed to maintain its laid-back charm without falling into the trap of becoming overly 'touristy', thanks mainly to the low, timber buildings that give Pucón its smart architectural style.
In the evening, visitors flock to the town's restaurants and bars to enjoy the atmosphere, but during the day the focus is very much out of town. With so many national parks, lakes, and volcanoes to explore, Pucón offers myriad options that include hiking, rafting, kayaking, horseback riding, zip-lining, fly-fishing, skiing, and much more.
The area is home to Chile's largest indigenous population, and Mapuche culture forms an important part of the visitor experience by way of cuisine and crafts. There is even a Mapuche cooperative in Curarrehue where visitors can enjoy a more interactive experience focused on the traditions of the community.
Pucón is also surrounded by several thermal springs, including the wonderful Termas Geométricas. Given the natural gems that surround the town, forest conservation is an important issue here, as the town looks to avoid the mistakes made by other destination in the region.
Pucón is an incredibly versatile destination, with just as many attractions during the colder months as the summer months. Connectivity is also easy very good, making it is easy to combine with other destinations in Chile and in neighboring Argentina. The town offers a wide range of accommodation options, from cheap and cheerful hostels to luxury boutique properties and larger five-star properties.
---
Attractions
IN TOWN
The main attractions of Pucón are not found in the town itself, moreover in the surrounding areas. That is not to say that Pucón is without attractions of its own. You will find many charming stores, with the best located on Fresia Street, where you can find woolen sweaters and scarves, wood carvings, and artisan jewelry stores. There is also an excellent crafts market at Alderate between, Fresia and Ansorena (open daily 10am-7pm) with several dozen small independent shops featuring handcrafted items of high quality. Given the nature of the destination, there are many stores specializing in adventure gear for all the outdoors activities available.
VILLARRICA NATIONAL PARK
One of the most visited in Chile, this 165,000-acre park sits on the edge of Lake Villarrica, making it easily accessible from Pucón. The park runs all the way to the Argentine border and encompasses three large volcanoes including Villarrica, Quetrupillan and Lanin, which are active, extinct and dormant respectively. Activities in the park include hiking, investigating some of the lava flows and volcanic caves, particularly around Villarrica, climbing one of the volcanoes or enjoying a thermal bath.
VILLARRICA VOLCANO
There are two options available for visiting the most emblematic active volcano in the area. At the base, you can walk through lava tunnels, which is a spectacle in its own right. For the more adventurous, an ascent of the volcano is one of the most thrilling excursions available in the area. On a clear day you can see several mini eruptions as puffs of smoke appear from its snowcapped peak. The excursion begins early in the morning, and the long climb may require crampons and ice axes depending on the time of year. A word of warning. Climatic conditions and the activity of the volcano itself often lead to the cancellation of the tour, but should luck be on your side this is an excellent option.
HUERQUEHUE NATIONAL PARK
This small park offers some great outdoors opportunities, and offers a superb setting amongst lakes and the stunning backdrop of the Villarrica Volcano. Created in 1967 to protect the local flora and fauna, Huerquehue National Park is a favorite for visitors to Pucón. A 30-minute to the west of town and with 12.500 hectares to escape into, it is a great option for a day walk of all levels with great panoramic views. Highlights of the park include thundering waterfalls, lagoons, and dense forests of araucaria trees, which are among the oldest on the planet. Wildlife is abundant, particularly birds such as the Magellanic woodpecker, but also the rare (and difficult to spot) marsupial, the monito del monte. Huerquehue is one of Chile's true natural treasures.
CONGUILLIO NATIONAL PARK
Famous for its 'drowned forest', which was formed around 2,000 years ago when a lava flow created Lake Conguillio. Activities within the park include hiking (from half-day to full-day and various levels), bird watching, and scenic photography. This is a great option for nature lovers.
EL CAÑI NATURE SANCTUARY
An alternative to the aforementioned National Parks is El Cañi; a 1,500-acre private sanctuary features a dense forest of one of the Earth's oldest tree species, the Araucaria. The sanctuary offers great hikes, stunning views of the region's major volcanos, abundant wildlife, and is also a groundbreaking conservation project.
RAFTING
Rafting on the Trancura River is one of the highlights of the area, ideal for families and the more adventurous alike. Several companies offer trips to Lower Trancura, which is perfect for the less adventurous (Class II and III rapids), and Upper Trancura, which is an hour of pure adrenaline with its Class IV+ rapids.
HOT SPRINGS
The volcanic activity in the area makes for plenty hot springs, which range from rustic rock pools to full-service spa resorts. This is a great thing to combine with outdoors activities, since nothing beats a soothing soak at the end of a day of adventure. The hot springs in the area range from rustic options such as those in the Cañi Reserve, Termas de Quimey, and Termas Los Pozones. Termas del Huife is a firm favorite in the area, offering indoor and outdoor pools and a wide range of services. However, without a doubt the best in the area is Termas Geometricas. This Asian-inspired, red-planked maze of 17 beautiful slate hot springs set upon a verdant canyon over a rushing stream is an a amazing achievement in design. There are two waterfalls and three cold plunge pools to cool off and a cafe heated by fogón (outdoor oven), which serves chicken soup and freshly brewed coffee. Located north of Coñaripe. It is quite a journey to get there, but well worth the effort.
CULTURAL EXPERIENCES
The 9th Region of Chile – where Pucón is situated – is the seat of Mapuche culture, the largest ethnic group in the country. Several aspects of their culture are available to visitors in the area, including culinary experiences (from dining to cooking classes), crafts, contact with Mapuche medicine men, and visits to 'rukas', the traditional abode of the Mapuches. The village of Curarrehue, some 45 minutes from Pucón, is perhaps the best place to visit as it blends all of these components.
---
Restaurants
There are dozens of excellent restaurants in Pucón and the surrounding areas. The following list is designed to narrow down the options as much as possible, covering all price ranges and culinary styles.
FINE DINING
Parque Antumalal │ International│ Price range: ««««
With its incomparable view over Lake Villarrica, Parque Antumalal has been part of the culinary tradition of Pucón since the 1950s. Part of the Hotel Antumalal, this restaurant offers both international dishes and local specialties and a complete wine and cocktail list. In an elegant yet rustic setting.
http://www.antumalal.com/en-us/restaurant/restaurant-parque-antumalal.htm
MID-RANGE
BoVinos Carnes & Vinos │ Steakhouse │ Price range: «««
Meat is very much the order of the day in this excellent restaurant. Their menu includes traditional meat cuts along with local specialties such as wild boar and venison. Their lengthy wine list is the best in town, ensuring the perfect match with your dish.
École │ Vegetarian │ Price range: «««
¡école! is a revolutionary vegetarian restaurant that supports sustainability in the area, bringing the freshest, local organic ingredients to the table. Everything is homemade and prepared daily, including high-energy breakfasts, while at dinner homemade quiches and crêpes, curried trout and vegetarian lasagna shine.
http://www.ecole.cl/english/resto.html
Fiorentini │ Italian │ Price range: «««
Pucon's best restaurant for Italian food. Pasta dishes and pizzas abound, but Fiorentini also offers excellent meat and fish dishes. With its elegant dining room and friendly service, Fiorentini is a firm favorite in Pucón for locals and visitors alike.
La Maga │ Steakhouse │ Price range: «««
There are plenty of options for meat-lovers in Pucón, but this Uruguayan steakhouse is arguably the best. Their classic bife de chorizo steak is superb, and their side dishes (from house-cut fries to delicious salads) are beautifully prepared.
Trawen │ Chilean & International │ Price range: «««
A Pucón classic, Trawen offers great value dishes created with flair. Everything here is fresh-baked, the home-style breakfasts are superb, and their salads are prepared with ingredients from their very own organic-certified gardens. The restaurant also has the town's best craft beer selection.
BUDGET
Café Balganez │ International │ Price range: ««
Something of a meeting place in Pucón, Café Balganez offers a selection of hot and cold sandwiches, homemade burgers, ceviches, salads, meat dishes, and much more. Their breakfasts are legendary, making this the ideal spot for a quick meal at any time of day.
Club 77 │ International & Chilean │ Price range: ««
Club 77 is an informal restaurant that serves sandwiches, salads, and an array of dishes that include grilled salmon, trout, and steak. A good choice for no-frills dishes and a vibrant atmosphere.
El Camino │ Sandwiches & Grill │ Price range: ««
Another excellent, informal option in the heart of town. Great sandwiches, burgers, and meat dishes, backed-up by a very good drinks menu. The patio area is lively and a great place to enjoy a beer with friends.
http://www.elcaminosangucheriabar.cl/
Latitud 39° │ International │ Price range: ««
A no-frills, gringo-oriented restaurant owned by Californian owners. Their specialties include juicy burgers, big salads, and Tex-Mex fare. A good option for a happy hour, an informal meal, and those looking for a lively atmosphere.
Pizza Cala │ Pizza │ Price range: ««
The best pizza in town. Owned by an Argentine-American pizza maker, this restaurant offers traditional pizzas and several local variations, good salads, and other Italian dishes. All of this in a warm and friendly atmosphere.
OUT OF TOWN
El Castillo │ Chilean & International │ Price range: «««
Located just out of town, on the road to the Villarrica volcano, El Castillo offers international and Chilean dishes with an emphasis on game such as wild rabbit, venison stew, and wild boar. The dining room combines volcanic stone and native woods to create a homely atmosphere.
La Fleur de Sel │ French & Mapuche │ Price range: ««««
Headed by Basque chef Michel Moutrousteguy, La Fleur de Sel offers a unique Mapuche-infused French menu that has captured the imagination of food-lovers in the area. Located some 30 minutes outside Pucón, in the Termas Peumayen thermal springs complex, diners can combine one of the area's best gourmet experiences with the wellness services on offer at the spa.
http://www.termaspeumayen.cl/english/portal/cocina/Nuestra_Cocina.shtml
---
Accommodation
Pucón is full of lodging options, with most of them being of very good quality, whatever the category. The town offers superb 4* and 5* options, a wide selection of mid-range hotels, but also excellent cabañas and hostels, which are economical and well-located. The following list is a selection of our recommended lodging options, covering all price ranges.
Luxury
ENJOY PUCON – GRAN HOTEL PUCON
On the banks of Lake Villarrica, Gran Hotel Pucon features an on-site casino, two swimming pools, free Wi-Fi in public areas and rooms, and scenic views. Guests can relax at the poolside sundeck overlooking the lake and Villarrica Volcano. Enjoy Pucon – Gran Hotel Pucon also boasts a fitness centre, sauna facilities and massage treatments. The casino features 500 slot machines and 43 game tables.
Located in the center of Pucón.
ENJOY PUCON – VILLARRICA PARK LAKE HOTEL
Located in front of Villarica Lake, this hotel features an outdoor swimming pool, a garden, a bar, and a restaurant, and offers rooms with terraces and views of the lake. The rooms at Villarrica Park Lake Hotel feature a private bathroom, desk, LCD satellite TV, and a minibar.
13 kilometers from the center of Pucón.
HOTEL ANTUMALAL
Nestled in 5 hectares of private gardens on the edge of Lake Villarrica, Hotel Antumalal delivers a quality, relaxing and luxurious experience. The unique setting merges natural beauty with style and personalized service.
2 kilometers from the center of Pucón.
Hacienda Hotel Vira Vira
Set in a beautiful and unique location close to Pucón, this wonderful luxury property features a 23-hectare native park along the shores of the Liucura River and offers an oasis of peace and recreation.
25 kilometers from the center of Pucón.
Midscale
CasaEstablo Boutique Hotel
The architectural design of this 10-room property recreates the aesthetic of the traditional stables of southern Chile, offering an impressive view of Lake Villarrica from all areas.
6 kilometers from the center of Pucón.
HOTEL MALALHUE
Hotel Malalhue is a charming mountain-style hotel with a family atmosphere, creature conforts, and warm Service.
3 kilometers from the center of Pucón.
PUCON GREEN PARK HOTEL
Surrounded by nature and the gorgeous scenery of this corner of Southern Chile, Pucon Green Park Hotel is ideal for those looking for a full-service out-of-town property.
4 kilometers from the center of Pucón.
Economy Hotels
Aldea Naukana Posada Boutique
Styled with natural fabrics and featuring elegant architectural design and spa facilities, Aldea Naukana offers cozy rooms with garden or volcano views.
Located in the center of Pucón.
ALPES HOTEL
Featuring a fully equipped common kitchen and a garden, Alpes Hotel offers free Wi-Fi, comfortable rooms, and a great in-town location
Located in the center of Pucón.
BORDELAGO
Featuring an outdoor pool and a private beach area, Bordelago offers a self-catering accommodation in Pucón. Free WiFi access is available here. The accommodation features a private bathroom, seating area, cable TV and a fully equipped kitchen. There is also a balcony, where guests can enjoy lake and mountain views.
Located in the center of Pucón.
COCURANTU HOTEL BOUTIQUE
This small, family-run property is known for its personalized service, eco-friendly focus, comfortable rooms, and relaxation activities such as yoga, massages, and a hot tub.
Located in the center of Pucón.
HOTEL PATAGONIA PUCÓN
Hotel Boutique Patagonia Pucón combines a country style with a modern infrastructure. Stone and wood blends with Mapuche touches to give a very local feel.
Located in the center of Pucón.
Hostels
CHILI KIWI LAKEFRONT
Voted the number one hostel in Chile in the 2015 & 2016 Hostelworld Hoscar awards, this is a fun, social and informative hostel with travellers' specific needs in mind and a superb location.
Located in the center of Pucón.
HOSTEL FRENCH ANDES
A welcoming and friendly little hostel, these cozy chalets are located in a quiet neighborhood of Pucon, within the walking distance of the center and the beach, you will enjoy an unobstructed view of the volcano and the majestic Quelhue Mountains.
Located in the center of Pucón.
HOSTEL PATACÓN
A new hostel in Pucon, with a great location, close to everything but in a quiet neighborhood. Comfortable rooms, fully-equipped kitchen, spacious outdoor areas, and a bar.
Located in the center of Pucón.
Cabañas
CABAÑAS AKUBRA
Cabañas Akubra offers self-catering accommodations in Pucón. All bungalows are made from wood and feature cosy fireplaces and scenic views. An outdoor pool and an extensive garden are featured on site. Free WiFi access is available in the common areas. The accommodation offers kitchen facilities, satellite TV, BBQ facilities, and heating.
Located in the center of Pucón.
MONTE VERDE HOTEL & CABAÑAS
Monte Verde is a beautifully 16-cabin complex, with each cabin accommodating two to eight guests, with fully fitted kitchens. An excellent option for extended stays.
5 kilometers from the center of Pucón.